Exclusive module developed by Shippers' Academy Colombo-SACSri Lanka Ports Authority has a competitive overall tariff-Chairman SLPA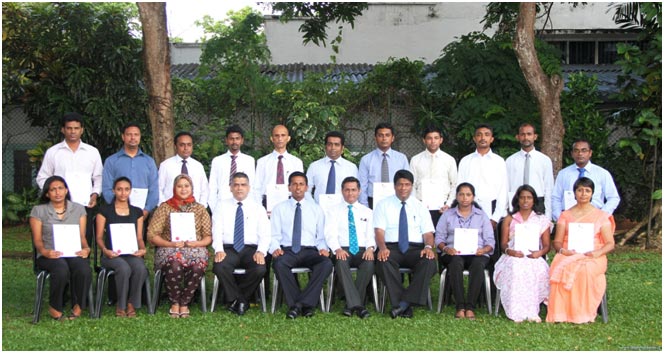 Certification recipients from one batch along with SAC academic staff starting 4th from left(seated) Mr. Sean Vandort consultant- SAC, chief guest Dr. Priyath. B Wickrama chairman SLPA, Mr. Rohan Masakorala CEO/MD –SAC and Mr. Upul Jayatissa Chief Marketing Manager SLPA and lecturer
The chairman, SLPA was the chief guest at the first certification ceremony for 100 students who completed a detail course on the structure of Port Tariff and Services. This programme was developed by the Shippers' Academy Colombo-SAC with the support and the endorsement of the Sri Lanka Ports Authority-SLPA. The award ceremony was held at the Sri Lanka foundation followed by a port visit to students who had completed the course.
Speaking at the event, Dr Priyath Wickrma chairman SLPA elaborated the vision of the government and the Ports Authority is to be a leading maritime hub in Asia. He added that whilst government is developing physical infrastructure they are very keen to have a skilled workforce in order to develop a shipping hub. This process has to go in hand in glove for us to be successful.
Chairman SLPA commenting on the port tariff said that SLPA tariff was one of the most competitive tariffs in the region for shipping lines and has kept it steady for more than a decade whilst all other costs have gone up. He urged the students to talk about this to their clients and promote the country. At the same time he said that a good knowledge on this subject will help organise their businesses to be more professional when calculating various charges.
Dr. Wikrama congratulated the SAC for conducting this course and the students for completing an important course successfully. He said that he and the SLPA were very pleased to endorse this new thinking focused on development of the industry.
Speaking at the event CEO/MD of the Shippers' Academy Colombo –SAC, Mr. Rohan Masakorala whilst expressing his gratitude to Chairman and the staff of SLPA for supporting them to develop this practical course reminded the trade that now the SLPA has automated its payment system and therefore companies should have a good understating of the tariffs and services so that they can do this operation sitting in their own offices. For this you need to have a good knowledge on the tariffs and its operational activities he said, this action by SLPA will help companies to reduce many extra costs by using the online system to make payments to the ports of Sri Lanka.
Next intake for this course has been opened and will begin the classes in January 2013​.