Shippers' Academy Colombo (SAC) conducts corporate training to Brandix group on trade and transport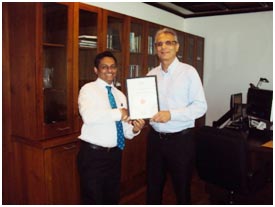 Brandix Lanka CEO Mr. Ashroff Omar being presented with the citification by CEO Shippers' Academy Colombo
In the quest to be globally competitive, Brandix Lanka Ltd has initiated a programme along with the Shippers' Academy Colombo (SAC) to train its group companies on various aspects of global commerce. The Shippers' Academy has specialised with its consultants and dedicated academic staff to develop customized programmes to corporate clients who are involved in global trade and transportation.
The first batch of 50 merchandisers were trained at Brandix essentials after understudying their requirements through the Shippers' Academy consultants where a successful and a focused programme was conducted and concluded to strengthen the supply chain efficiency by giving the necessary knowledge to the employees on both academic and operational aspects of international trade and transport.
The Shippers' Academy CEO, Mr. Rohan Masakorla said that it was the positive thinking of the Brandix Group CEO Mr. Ashroff Omar and the understanding he had of the supply chain and its importance that gave the way to come up with this new method of empowering employees with sub-sector knowledge to reduce waste and eliminate unwanted supply chain delays and cost. Currently the Shippers' Academy is also conducting the same training to another group at Brandix Casual Wear to upgrade the knowledge on international trade and transportation.
The future of global competitiveness is definitely going to be based on speed, which includes the massive technology transformation that is taking place today which will no doubt change the consumer & retailer patterns. Given this paradigm shift, the necessary understanding and skills should be given to the employees so that they gain the process knowledge to use the technology in the most efficient manner. Therefore, they need to understand the pitfalls, legal requirements, boarder requirements and logistical aspects in relation to the supply chain management and international trade is a given must.
The Shippers' Academy Colombo has developed the capabilities to service the requirement of the export trade, import trade as well as to train the service providers such as logistics companies. This unique feature has given a new dimension to the local logistics industry and a greater opportunity for the industry personnel as well as to new comers to the industry to get a comprehensive understanding of the said subject areas. The cost effective customize training method adds value to the company and its staff in a very meaningful way.
The SAC is in partnership is with the Sri Lanka Foundation (SLF) and has established links to the domestic university system as well. It is one of the two institutions approved by the Director Merchant Shipping to conduct the licensing of logistics providers programme in Sri Lanka, which now a mandatory requirement.​