70 students complete required licensing course for logistics companies and freight forwarders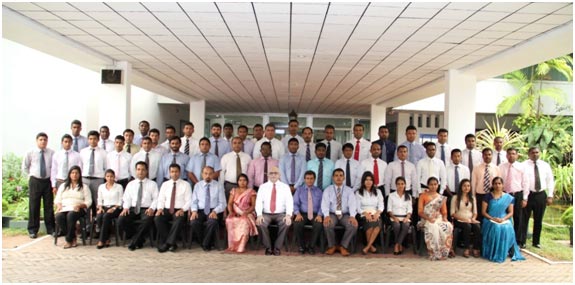 A batch of students: Seated from 3rd left: Mr. Dilhan Goonetilleke (Coordinator SLF), Mr. M N Prabath (Coordinator SAC), Mr. Arunasiri ( Director SLF) Mrs. S.S.Roshini (Asst Director licensing DGMS)Prof Ranjith Bandara ( Chairman SLF),Mr. Rohan Masakorala,(CEO SAC) Mr. Samantha Ratnayake (Consultant SLF)
Shippers' Academy Colombo (SAC) an approved institution by the Director Merchant Shipping and its partner Sri Lanka foundation SLF (The only government institute to conduct this special course) successfully conducted the Certificate Course in Logistic Services, Freight Forwarding & Multimodal Transport for two batches of 70 students. This course is a mandatory requirement by the government since 2011, when obtaining the license to run a business in logistics/freight forwarding.
The three month course gives an excellent understanding to students on the basic aspects and principles in International Transport, Logistics and Trade (TLT) across borders. This is the only government certified course currently available in this field.
Shippers' Academy Colombo and Sri Lanka Foundation came into a strategic partnership to build capacity as the requirements for qualified personnel in this field is ever increasing as the country is expanding the infrastructure to cope with the demand. The two institutions are having allocations for their students to further their higher education in this field with affiliations to universities to offer diplomas and beyond.
Prof Ranjith Bandra, the chairman of SLF and Mr. Rohan Masakorala CEO of SAC were instrumental in making the strategic partnership to open up new skills at the Foundation and bring in the new knowledge areas to employees of the state sector and new entries to the labour force.
The syllabus for the course was jointly designed by the SAC with the inputs of the DGMS office and has entrusted the course management to the SLF which comes under the Presidential Secretariat. Senior and well experienced lecturers from the trade are involved in lecturing and they guide the students to learn theoretical and practical aspects of the international transportation, logistics and trade.
The certificates were awarded by chief guest Mrs. S.S Roshini Asst. Director licensing from DGMS office.This course is run twice a year, and a third batch is now being registered which will commence classes' end of April 2013, SAC or the SLF could be contacted for further details. www.shippersacademy.lk.