I Deal with Bills of Lading, What can go wrong?
Do I know the risks? Will I lose my cargo?
Shippers' Academy Colombo-SAC
Annual Certificate Training on Bills of Lading-(BL) for shipping
Understand the rights and obligations to cover risk and liability
13th December 2017 from 8.30am-12.30pm
@ SLIDA-DLC Colombo 7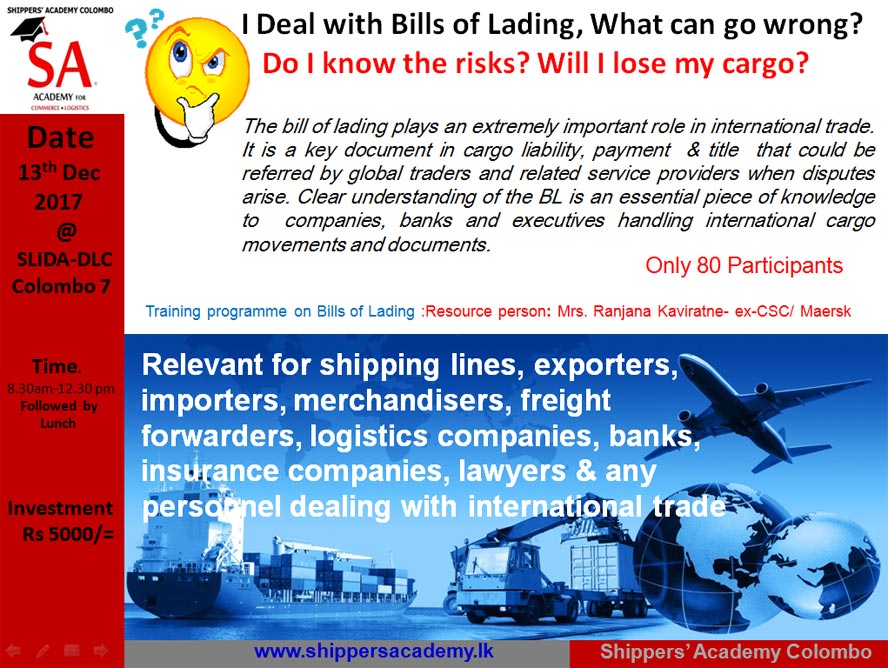 For the export, import and service sector including banks and insurance industry
Resource Person: Mrs. Ranjana Kaviratne
Topics
Different types of B/L in cargo transport
Functions of the Bill of Lading
Handling of a lost Bill of Lading
Releasing cargo without the Bill of Lading
"Clause Bills of Lading" Why it plays such an important role
"Switch Bill of Lading" is it fraudulent?
Sri Lanka should soon go into the Remote Bill of Lading and matters of concern.
Investment Rs 5000/= including lunch:
Limited accommodation
Please register by filling up the attached application form or via the Internet link below
http://shippersacademy.lk/events/courses-forus-seminars/275-annual-certificate-training-programme-on-the-bills-of-lading
Tel:0773820703 /0113560844 : email:This email address is being protected from spambots. You need JavaScript enabled to view it., Fax: 0112874065
www.shippersacademy.lk